CONSULTING
Whether you're needing assistance with training, coaching, lifestyle planning, starting a new race, opening any kind of retail outlet, or just some general advice. Andrew is one of the most credible source of relevant information that could be applied to any sporting or business environment.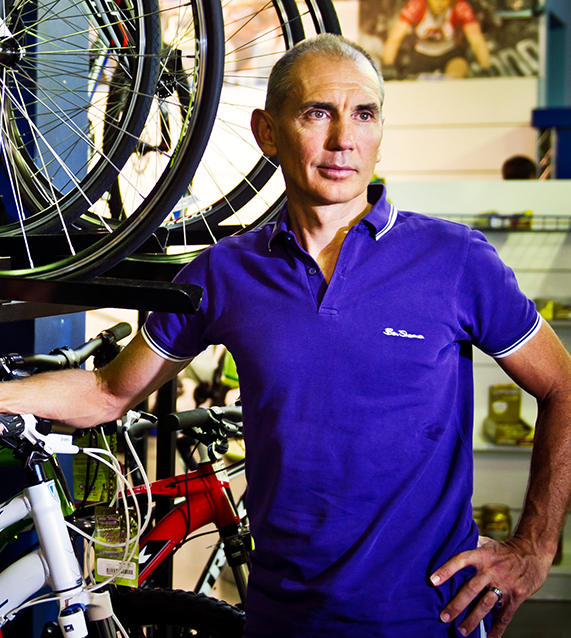 Testimonials
Andrew has really been instrumental in my growth and development as an athlete and cyclist.
I have only been cycling for a little over 5 years and I have definitely seen an improvement in my skills and ability in the 24 months that he has been coaching me.
In a short space of time, I have gone from a very average rider to the point where I can now compete for podium in my category.
Apart from the physical aspects of the training what has been really useful is his depth of knowledge and understanding of the theoretical side of training and why it's important to take care of the other elements such as diet, nutrition, core development and recovery etc.
I have known Andrew well for the last 10 years. Having trained together on countless 5am winter mornings out in the Cradle of Humankind, and raced together on road and off road. I have always believed that Andrew would make an excellent coach. His innate understanding of the sport of cycling is far beyond anyone I have ever met. But it is his ability to apply this understanding that makes him outstanding. Andrew knows how to achieve results in cycling, and he knows how to help other achieve results too! If I were to look at my own results, the vast majority of them have been in some way a result of my relationship with Andrew.
I briefly coached Andrew. I say briefly, because even though I had a lot of technical knowledge about training with power meters, I very soon realised that I was the student and he was the teacher. Andrew is a winner. It's built in to his DNA. But in all my years of training and racing with him, I never saw him winning at all costs. Fair play, hard work, grit, and determination make him a formidable competitor, but will make him a coach that will help people go beyond what they thought their limitations were.
For more than half of my cycling career Andrew has been involved in it, first only as a sponsor and more recently as a coach and mentor. His professionalism and attention to detail is rare to find and his ability to listen to his athletes, know what works for them and what doesn't and then being able to translate that into the perfect training and nutritional program is unrivalled. It is seldom that you find someone with the experience, pedigree and integrity, not only on the bike but also in all aspects personally and in business, who can take all that knowledge and transform it into the perfect program for his athletes. Andrew does this brilliantly. You will not find a more dedicated coach and mentor. The value he adds to any athlete is priceless and you will most certainly be at a disadvantage to not have Andrew in your camp.
There is no doubt that having Andrew McLean as my cycling coach has helped me enormously, and in many ways. I have become a much stronger rider and a more consistent one. My technical skills have improved significantly and I have learned a lot about the mindset of racing. All this has ensured that I am more confident on the bike and continue to enjoy every moment out there on the trails!
You would think, doing a skills session with Andrew McLean would be intimidating and nerve wracking? Not for me, Andrew is welcoming and immediately put me at ease.
I was a bit of a novice when having my first skills session with Andrew. He instilled confidence and calmness during the explanation and then the showing in practice. This process is extremely informative, showing his longtime and vast experience.
I enjoyed "the feeling of doing" from his instruction while riding behind or alongside me. The moving instructions are continuously easily interpreted and at times excitement causing. Thus, allowing me to improve my times and safety on the bike.
Importantly, Andrew taught me that you need to learn correctly and keep on with skills training regardless of your level.
I hope to keep riding with Andrew.
Very few coaches have real word race experience, Andrew has been by far one of the most experienced and prolific race winners in SA cycling history both on road and mountain bike, in my opinion this is what sets him apart from traditional arm chair coaching.
Andrew has a unique skill of not only giving you the right advice but also getting the most out of you based on his extensive understanding of the sport, a quality that only comes with experience.
I have been training with Andrew for several years, and under his guidance I have managed to remain competitive in my race category with a number of wins and podium finishes.
I Can honestly say I owe my successes to his guidance, innovative training and continued motivation.
Andrew has the ability to share his years of wisdom and experience in cycling in an entertaining and authentic way. He tells tales from the front-lines of racing with the best; to generously advising on training and skills and nutrition. A great experience to learn from an icon of the sport.
It is a privilege to have the opportunity of listening to someone who has really "been there" and is able to address a group, capturing them completely. From stories of distant road races in Belgium to muddy Epic adventures, Andrew captures the essence of tough endurance and a will to win in a positive and motivational manner. Added to this is his expertise in training and nutrition . His talk was clever, humorous and entertaining.
He is one of the few speakers that has started up a huge successful retail business , and is able to "back up" what he says.
VIDEOS
Subscribe to my channel
@ANDREWMCLEANCYCLING